Resources
Tune into Product Stories
that matter to you
The available information for Enterprise Software Products such as Creo, SolidWorks, Windchill, TeamCenter, SAP, etc. is valuable only if the info can be found at the right time and within the Users context. "Product Stories dashboard" feature in Punditas AI automatically discovers and connects Users with relevant Tips, Tricks, Tutorials, Help articles, etc. based on the User's area of interest and their preferences.
Single Source for all Product stories
Personalization is everywhere in our personal lives. Punditas brings "personalization" to Product Knowledge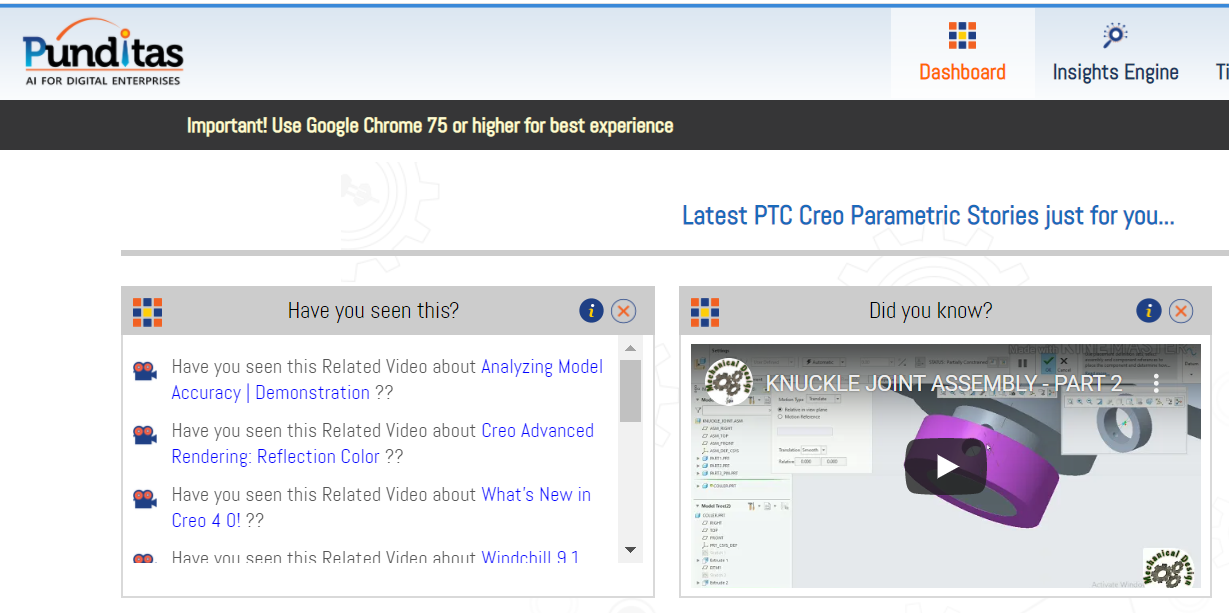 OOTB support

for these Enterprise Products





Key features
of Product Stories Dashboard

Structured Landing Page

Fresh Content

Stream news about your organizations internal Product/Process Training, webinars, etc.

Configurable Tiles
Product Stories Dashboard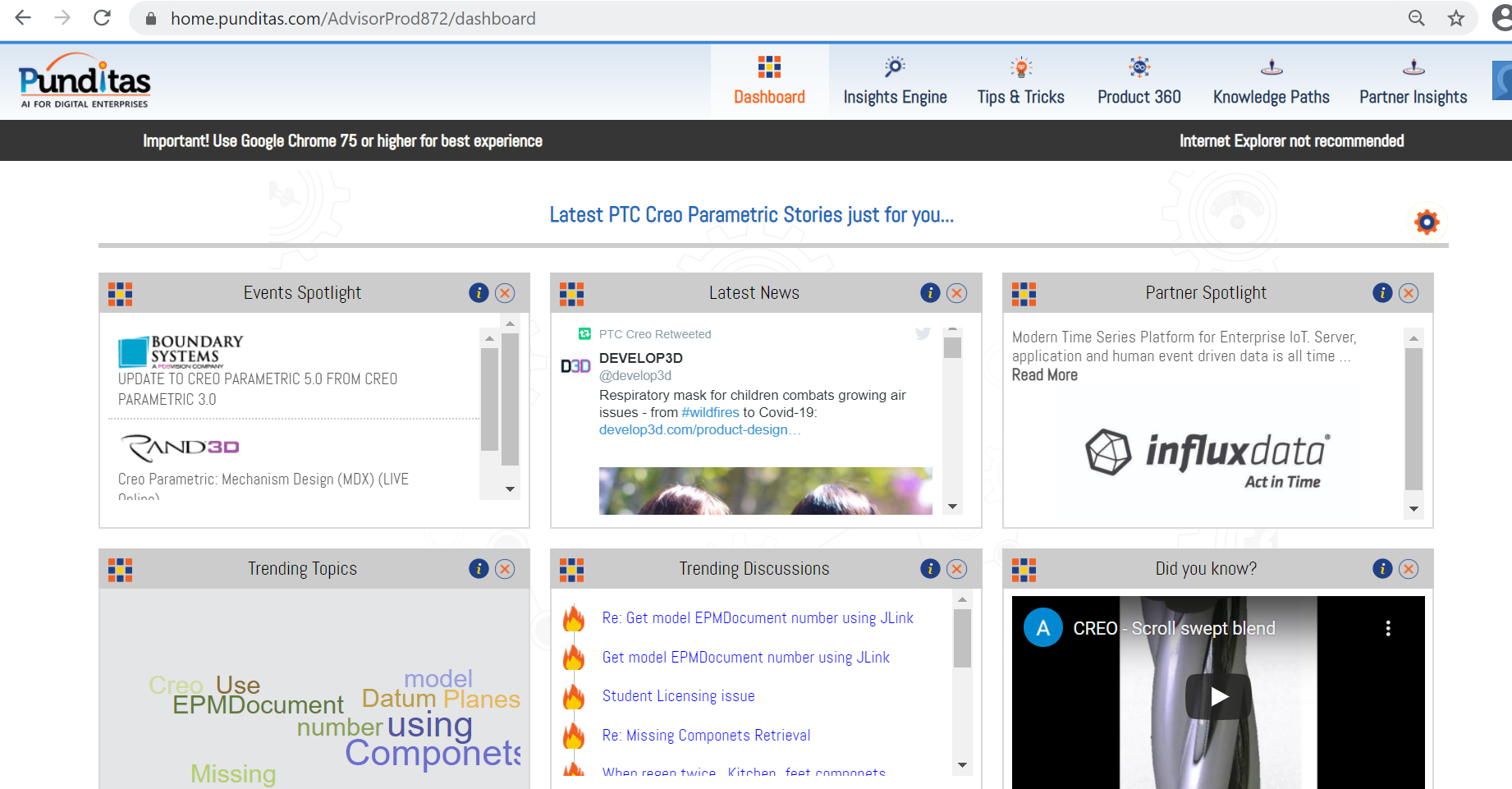 Structured Landing Page
Punditas AI Advisor uses tiles to display Product Stories. Product stories is information about different aspects of an Enterprise Product. The stories dashboard delivers stories ONLY about the selected Enterprise Product. The pic seen includes an example of stories displayed within PTC Creo Parametric environment. Six Product stories are presented within Creo and these include - Events Spotlight, User Spotlight, Partner Spotlight, Product Spotlight, Trending topics, Have you seen this, etc.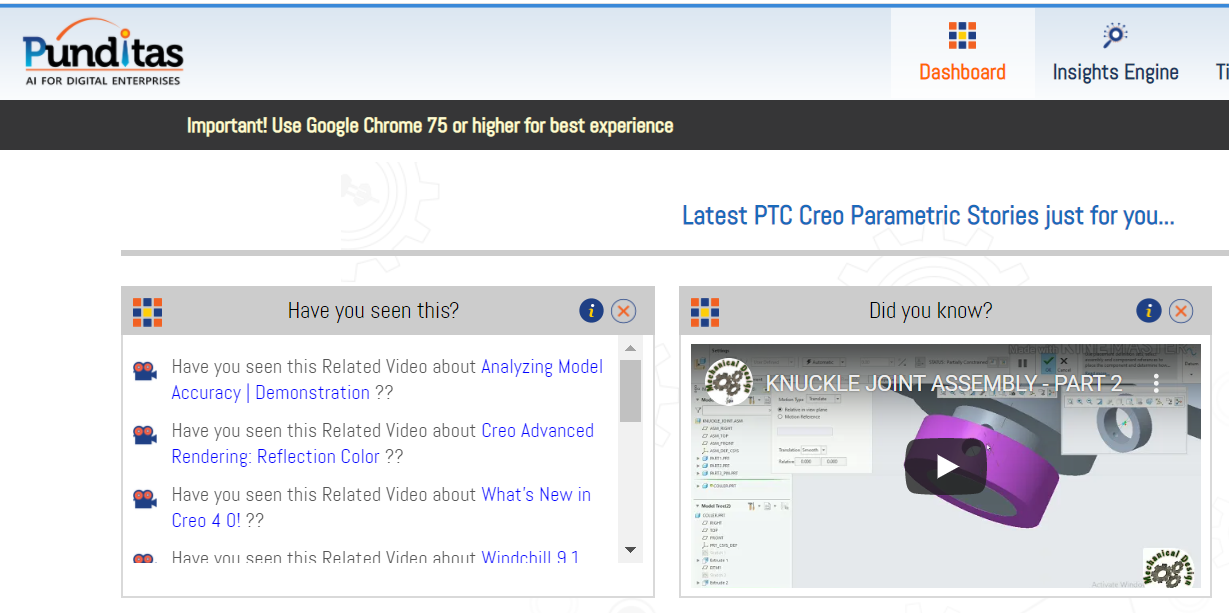 Fresh Content
Enterprise Products are evolving on a continuous basis and so can Users update their knowledge & skills. Users can take advantage of the features only if they knew about these updates. Product Stories dashboard presents latest updates about a selected Enterprise Product so Users can keep track of the new features, bugs, discussions, etc.
Key benefits
of Product Stories Dashboard

Content Personalization by User

Continuous Learning platform

Early warning system for issues

Improved User productivity